Search By Keyword In Your City, State or Zip Code
Get your business more Local Search presence in just a few easy steps...
Dog Kennels in Greene, New York
Coventry Country Kennels
000-000-0000
2368 New York 206 Greene NY 13778
Business Description
If you are in need of a Pet Groomer in Greene, NY, look no further than Coventry Country Kennels. For many years we have provided Dog Grooming, Pet Boarding and much more. We offer our services at rates that are affordable and our staff is highly skilled and experienced. We take care to make sure your pet is comfortable and content. For a great service in Greene, NY, call on Coventry Country Kennels.
Mission Statement

To provide Greene quality Animal Services assistance as a Pet Groomer, Dog Grooming, Pet Boarding and Dog Kennels.

Coventry Country Kennels meeting your Animal Services needs since .



1)
services
Drop Off and Pick Up Times


8:30am to 10:00am for Drop Off's (you will be charged for a full day on Drop Off day, regardless of time)
6:00pm to 7:30pm for Pick Up times(no charge for pick-up if done before 10:00am)
Daily Rates
$18 per day for Dogs, for a 4'x6' suite
$16 per day, per dog for 2 dogs in 1 suite


Group Rates for 3 dogs plus and an extgeded stay 'special'
$12 per day for Cats in condos, separate area from dogs
Exercise Area
Dogs are taken outside in a large exercise area with a 6' stockade fence at least 4 times a day, no extra charge.
Dogs are let out in the exercise area alone or with their family dogs only.
No extra charge for hand walking
No extra charge for giving medications
PROOF OF VACCINATIONS IS REQUIRED, see list below
Rabies
Bordatella
5-way Distemper
Parvo
Parinfluenza
2)
our Kennel
Our Kennel is heated and air conditioned as needed for the dogs and cats comfort. We have a radio playing 24/7 for them and night lights.


Latitude
42.3175001
Longitude
-75.6676817
Year Established
Payments Accepted
Specialties:
Pet Groomer
Dog Grooming
Pet Boarding
Dog Kennels
Doggy Day Care
Pet Grooming
Pet Services
Dog Boarding
Dog Kennel
Animal Grooming
Read More
Coventry Country Kennels Photo Gallery
Updated as of 10/11/2016
Hover over thumbnail to enlarge image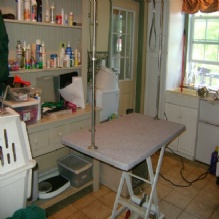 10% Off Grooming
Coventry Country Kennels
Receive 10% off any Grooming services for your Dog or Cat.
Must present this coupon. Expires November 27, 2016.
Coupon code: -5705-EG
2:
Contact Information
Direct Email Contact
Mailing Address
2368 New York 206
Greene, NY 13778
Telephone/Fax
000-000-0000

Website
Email Contact
You can also email Coventry Country Kennels direct by filling out the form on the right.
Coventry Country Kennels in Greene, NY has a higher trust score for Dog Kennels than:
2368 New York 206, Greene, NY 13778
Popular Searches