Search By Keyword In Your City, State or Zip Code
Get your business more Local Search presence in just a few easy steps...
Air Conditioning Contractor in Fillmore, California
Heritage Valley Air Company
000-000-0000
1112 Meadowlark Dr Fillmore CA 93015
Business Description
Heritage Valley Air Co. is a family owned and operated business. We are always committed to quality work and craftsmanship. We have qualified and trained technicians. Our goal is to provide quality and comfort to your family's home or place of business like it was our own.'We work with all brands and models, specializing in new construction and equipment change outs.'
Mission Statement

To provide Fillmore quality assistance as a Air Conditioning Contractor, HVAC AC Repair, Heating Repair and Air Conditioning Installation.

Heritage Valley Air Company meeting your needs since 2009.



Reviews
Be the first to Write A Review for Heritage Valley Air Company.
Services
Content Is Currently Under Construction.
Latitude
34.4018299
Longitude
-118.928994
Year Established
2009
Payments Accepted


Specialties:
Air Conditioning Contractor
Hvac Ac Repair
Heating Repair
Air Conditioning Installation
Commercial Air Conditioning
Residential Air Conditioning
Heat Pumps
Air Conditioning
Heating
Commercial Heating
Read More
This listing has no public user content.
Heritage Valley Air Company Photo Gallery
Updated as of 10/4/2016
Hover over thumbnail to enlarge image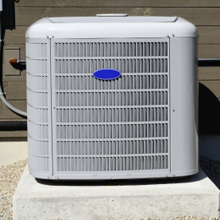 No coupons available at this time
Contact Information
Direct Email Contact
Mailing Address
1112 Meadowlark Dr
Fillmore, CA 93015
Telephone/Fax
000-000-0000

Website
Other Website
Email Contact
You can also email Heritage Valley Air Company direct by filling out the form on the right.
Heritage Valley Air Company in Fillmore, CA has a higher trust score for Air Conditioning Contractor than:
1112 Meadowlark Dr, Fillmore, CA 93015
Popular Searches