Search By Keyword In Your City, State or Zip Code
Get your business more Local Search presence in just a few easy steps...


Chiropractor in Waterbury, Connecticut
Hodes Chiropractic
000-000-0000
1249 W Main St #7 Waterbury CT 06708
Business Description
If you are in need of a chiropractor in Waterbury, CT, call on Hodes Chiropractic. For many years we have been providing relief for back and neck pain, sciatica, and more. Don't let pain ruin your day! Get the chiropractic help you need to lead your healthiest life! For a great chiropractic service in Waterbury, CT, call on Hodes Chiropractic!
Mission Statement

To provide Waterbury quality Chiropractor assistance as a Chiropractor, Chiropractic Clinic, Pain Relief and Chiropractic Adjustments.

Hodes Chiropractic meeting your Chiropractor needs since 2013.



Reviews





Be the first to Write A Review for Hodes Chiropractic.
Dr. Scott Hodes, a Doctor of Chiropractic, has treated people in the Greater Waterbury area for more than 25 years. He has helped thousands of patients, giving them relief from pain and helping them to live an active pain free lifestyle.

Dr. Hodes is committed to providing the highest quality of care to help relieve your pain. He is considered by many to be an expert in alternative approaches to the treatment and prevention of pain. Dr. Hodes uses non-surgical methods to relieve pain, treat injuries, and restore healthy functioning.

Dr. Hodes works with each patient to create an individualized treatment program, carefully designed for you, utilizing the most advanced diagnostics and treatment options. He has had extensive training in chiropractic rehabilitation and combines years of training with the latest in chiropractic and rehabilitative care. Dr. Hodes attends advanced training seminars each year to increase the effectiveness of his treatments.
Key Contacts
Dr. Scott Hodes
Owner
Corinne Hodes
Massage Therapist
Denise Payanis
Receptionist
1) Chiropractic Care
Chiropractic Care Options

Diversified Adjustments

Dr. Scott Hodes, a Doctor of Chiropractic, has helped thousands of patients, giving them relief from pain and helping them to live pain free. Dr. Hodes has over 25 years experience in hands-on Chiropractic care.

Diversified adjusting technique is the preferred hands-on chiropractic system that is taught in the majority of Chiropractic Universities in the U.S. and around the world. It is a gentle and very safe procedure that helps to relieve pain and restore normal movement and function to the spine.

ProAdjuster

In additional to hands-on Chiropractic adjustment, Dr. Hodes also offers the high tech, computer assisted ProAdjuster system of Chiropractic care.

Dr. Hodes will provide you with advanced spinal correction utilizing "state of the art" chiropractic techniques. Never in the history of chiropractic have we been able to provide the level of help and expertise that now exists. Dr. Hodes was one of the first Chiropractors in Connecticut to begin using the ProAdjuster device. He has been successfully treating patients with the ProAdjuster for over ten years.

Chiropractic Biophysics

Initially, Dr. Hodes will adjust your affected spinal joints to relieve pain, restore normal range of motion and function. Then, using chiropractic biophysics techniques, he will work to slowly change the shape of your spine in order to restore your normal posture. This is done by combining chiropractic adjustments with specially designed traction machines in the office and exercises to improve spinal stability.
2) Physiotherapy
To complement and enhance the healing effects of the specific Chiropractic adjustment treatments, Dr. Hodes will determine if you will benefit from one of the following physiological therapeutic procedures:

ULTRASOUND: This therapy is used to treat joint and muscle problems. It is a similar technology to what is used to diagnostically image inside the body. Small sound waves are used to vibrate and massage the effected tissues and stimulate the body's natural healing process. A slight heating effect also occurs that helps to soothe sore muscles. Ultrasound starts the healing process at the most basic cellular level helping to speed up injury recovery.
ELECTRICAL MUSCLE STIMULATION: By using tiny electric currents into the effected area many soft tissue injuries can be effectively treated. This therapy has 3 healing effects. First, it helps to relieve pain by stimulating release of the body's natural pain relievers known as endorphins. Second, it helps to decrease spasm or increased tension in muscles. Third, it helps to reduce swelling. This is very effective therapy to aide in the healing process of acute and chronic conditions.
MOIST HEAT THERAPY: Heat helps to stimulate circulation to the area of injury to bring fresh fresh blood flow and nutrients to aide in healing.
MECHANICAL TRACTION: Many different conditions benefit from traction therapy including sciatica, disc problems and spinal stenosis. By cycling through distraction and relaxation phases discs that have shifted may be allowed to resume their normal positioning as a result impingement on the adjacent nerves can be freed up. This therapy can provide dramatic relief from leg and arm symptoms including pain, numbness and weakness.
CRYOTHERAPY ( ICE ): Used mostly for acute injuries, this therapy helps to reduce swelling and inflammation.
EXERCISE PROGRAMS: The key to long lasting relief is to stabilize and strengthen the effected area after the acute injury has healed. Starting the right corrective exercise program at the proper time is a big factor in preventing relapses and re-injuries.
TRIGGER POINT THERAPY: Painful knots in the muscles known as trigger points often form with overuse or when mechanical spinal conditions are left untreated over a long period of time or managed only with over the counter medications. By releasing the stored up tension the muscles can then resume their normal relaxed state providing tremendous relief.
3) Massage Therapy
Corinne A. Hodes, LMT

Corinne A. Hodes, Licensed Massage Therapist has 21 years experience as a Massage Therapist. Prior to attending massage school, she graduated from Southern Connecticut State University in New Haven, CT in 1989 with a Bachelor's Degree in Science. She worked with seniors and mentally and physically challenged individuals in profit and non-profit organizations.

In 1993, she graduated from the Connecticut Center for Massage Therapy in Newington, CT She has worked with her husband, Dr. Scott A. Hodes in his Chiropractic Offices ever since, working with chiropractic as well as private clients providing various types of massage treatments.

In 2013, she completed Advanced Training in Oncology Massage with Tracy Walton and Associates in Boston, MA. In 2014, she completed additional training with Tracy Walton & Associates in an Advanced Mentorship Program for Oncology Massage. She continues to grow her practice with oncology patients and looks forward to taking additional training to further her knowledge & provide massage services to individuals with a history of cancer or those in cancer treatment.

Corinne is committed to helping patients/clients experience comfort in the body, stillness in the mind and a sense of well-being.
4) Dot Physicals
FMCSA CERTIFIED DOT Physicals
Dr. Scott A. Hodes - Chiropractic Physician
National Registry # 5860079039
You can get your DOT Physical done here at Hodes Chiropractic for a Fair Price just $80
far less than what some offices charge.

Important steps to follow:

1) Call to schedule an appointment for the exam.

2) *Download the history and exam form. You will need to complete pages 1 and 2.

3) If you checked ( YES ) to # 1,2,5,6,13,18, You may need to provide additional documentation from your doctor.

4) We accept Cash or Credit Card for the $80 exam fee.

*Copy and paste this link into your browser https://www.fmcsa.dot.gov/sites/fmcsa.dot.gov/file...
Serving Area:
Waterbury, Middlebury, Watertown, Prospect, Naugatuck, Southbury, Bethany, Cheshire, Seymour
Serving Zip Code:
06708, 06702, 06703, 06704, 06705, 06706
Latitude
41.5520775
Longitude
-73.0632634
Year Established
2013
Payments Accepted
Specialties:
Chiropractor
Chiropractic Clinic
Pain Relief
Chiropractic Adjustments
Pinched Nerve
Spine Adjustment
Shoulder Pain Relief
Back Alignments
Chiropractic Care
Chronic Back Pain Relief
Neck Pain Relief
Headache Treatment
Mid Back Pain Relief
Massage Treatment
Stress Relief
Posture Correction
Car Accident
Work Injury
Sports Injury
Read More





This listing has no public user content.
Hodes Chiropractic Photo Gallery
Updated as of 5/17/2023
Hover over thumbnail to enlarge image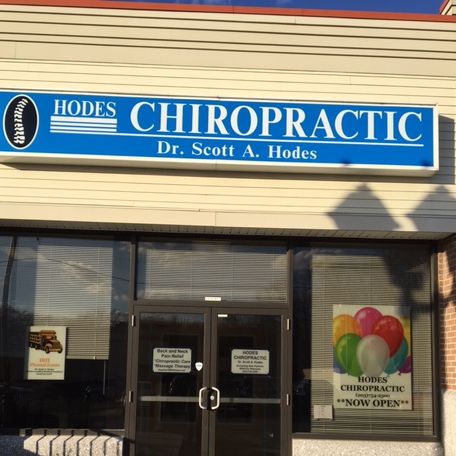 No coupons available at this time
Contact Information
Direct Email Contact
Mailing Address
1249 W Main St #7
Waterbury, CT 06708
Telephone/Fax
000-000-0000

Website
Email Contact
You can also email Hodes Chiropractic direct by filling out the form on the right.
Our Hours
| | |
| --- | --- |
| Tuesday: | 9:00AM to 7:00PM |
| | |
| --- | --- |
| Wednesday: | 2:00PM to 6:00PM |
| | |
| --- | --- |
| Thursday: | 9:00AM to 7:00PM |
| | |
| --- | --- |
| Saturday: | 9:00AM to 1:00PM |
Hodes Chiropractic in Waterbury, CT has a higher trust score for Chiropractor than:
1249 W Main Street #7, Waterbury, CT 06708
Popular Searches